Nutrition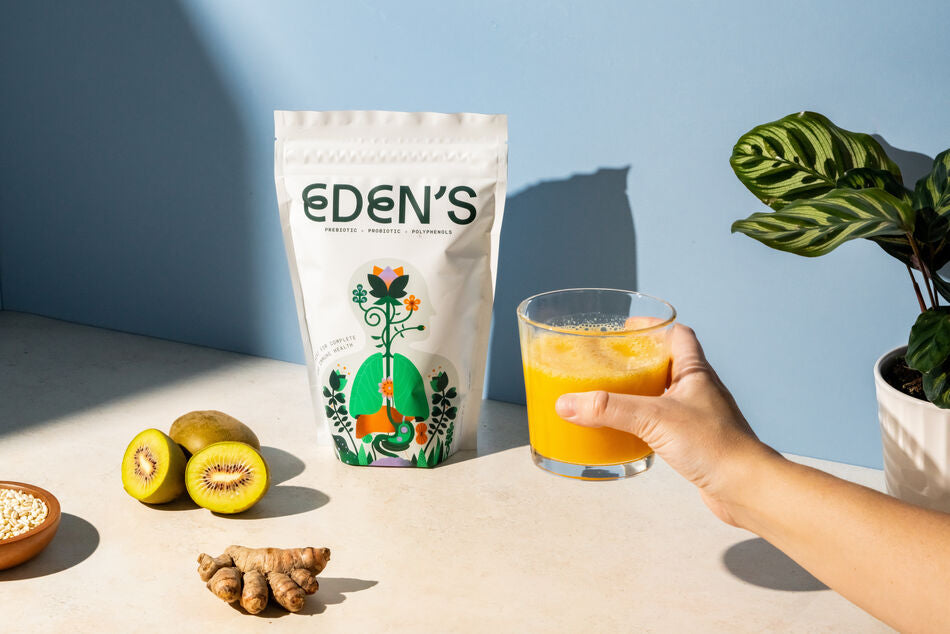 Eden's 3-in-1 synbiotic supplement was designed to taste good on its own: you can enjoy it with just 8 ounces of water. (Learn more: What is a synbiotic?) But for those of us who like to get creative in the kitchen, we're sharing some of our favorite recipes, all incorporating this powerful synbiotic blend of prebiotics, probiotics and polyphenols.
Your metabolic and immune health, plus your tastebuds, will thank you.
Remember: Don't mix Eden's with any hot liquids or anything that will be cooked, which could impact Eden's solubility and biological activity.
1. Sweet potato smoothie (trust us!)
Sweet potatoes stay in-season long into spring. This might be the most refreshing way to use them. This smoothie is perfect in the morning, as a snack, or post-workout — because it's full of fiber, naturally occurring sugars and tons of micronutrients. 
Ingredients:
1 cup frozen sweet potato

¼-½ cup frozen riced cauliflower 

1 tablespoon flax seed

1½ cups unsweetened milk of your choice

1 scoop Eden's

1 tsp pumpkin pie spice (optional)

½ banana (optional)

Ice to taste
For a protein boost, try one or more of these additions:
1 scoop protein powder (optional)

½ cup of plain, unsweetened Greek yogurt
For smoothie bowls, make a thicker smoothie and pour into a bowel. 
Top with a few teaspoons of any (or all) of the following:

Hemp seeds

Chia seeds

Nuts (slivered almonds, walnuts, cashews, etc.)

Pumpkin or sunflower seeds

Unsweetened coconut flakes

Cacao nibs

Whole oats

Chopped fruit
Instructions:
Place all ingredients in a high-speed blender.

Tip: to avoid powder sticking to the blender, put any powders and flaxseeds in last.

Blend on high until it reaches your desired consistency. 
Note: You can freeze your own sweet potato by first cooking it until tender, then cut it into slices (keep the skin on for an extra boost of fiber), place them on a baking sheet, and put into the freezer until solid. Then, place the slices in a freezer-safe container and use as-needed. 
3-in-1 Synbiotic Superblend
Daily synbiotic supplement for gut health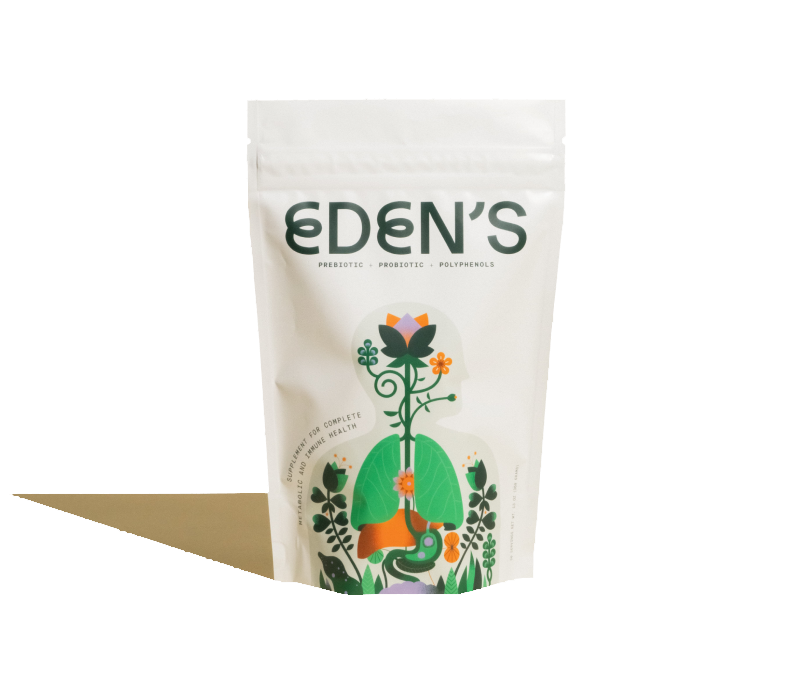 2. Overnight oats
Adding Eden's to your overnight oats gives this high-fiber dish the perfect hint of sweetness — and the addition of yogurt gives you a protein boost that will keep you fuller for longer. 
Ingredients:
½ cup whole rolled oats (make sure they're whole oats)

½ cup unsweetened milk of choice

¼ cup plain unsweetened Greek yogurt

1 scoop Eden's

¼ teaspoon vanilla extract

1 tablespoon quinoa or chia seeds
Optional toppings (added just before serving):
Chopped fruit or dried fruit 

1-2 teaspoons of unsweetened coconut flakes

1-2 teaspoons nuts or nut butter of your choice
Instructions:
Place all ingredients into a container and mix until combined. Let stand for 15 minutes, then mix again until uniform.

Cover and refrigerate for at least 2 hours or overnight. 

Before digging in, add toppings of your choice.
---
3. Chia seed pudding
Chia seeds are a complete protein and this pudding is loaded with fiber, protein and healthy fats. It's delicious, creamy, and lightly sweet, which makes it a healthy breakfast or snack to crave. Top with something crunchy, fresh fruit or enjoy it on its own. 
Ingredients:
6 tablespoons of chia seeds (white or black)

2 cups light coconut milk or other unsweetened milk of choice

1 scoop Eden's

¼ teaspoon cinnamon 

⅛ teaspoon sea salt

1 tablespoon maple syrup (optional)
Instructions:
Combine all ingredients in a glass container. Chill for 1 hour, then re-stir until uniform. Chill overnight for pudding to set. 
---
4. PB&J popsicle bites
A high-fiber, low-sugar option that's full of healthy fats, plus electrolytes from the coconut water. Enjoy a few of these as breakfast, a snack or dessert. 
Ingredients:
1 cup frozen strawberries

1 cup frozen blueberries

2 tablespoons peanut butter (or other nut butter) of choice

1 cup coconut water (can be substitute with water or milk of choice)

3 scoops Eden's

1 banana (optional)
Instructions:
Place all ingredients in a blender and mix until smooth. Pour into an ice cube tray and place in the freezer. 
---
5. Energy balls
These are an excellent make-ahead breakfast or snack for an on-the-go lifestyle. Nutrient-dense, filled with healthy fats and loaded with fiber, this dish never gets old when you change up the spices and mix-ins. The possibilities might actually be endless. 
Ingredients:
½ cup medjool dates

1 cup whole rolled oats

½ cup creamy nut butter

¼ cup ground flaxseed

4 scoops Eden's

1 teaspoon vanilla extract

¼ cup shelled, chopped pistachios

¼ teaspoon salt

A few teaspoons of water as needed
Optional mix-ins:
¼ cup unsweetened coconut flakes

¼ teaspoon cinnamon

1 tablespoon of chia seeds

2 tablespoons of dried fruit or pumpkin seeds

1 scoop of protein powder
Instructions:
Place dates in a food processor and blend until dates are finely chopped.

In a mixing bowl, combine all ingredients and mix until uniform. Cover and refrigerate for at least 30 minutes.

Once the mixture is cool, roll into ball sizes of your choosing.

Refrigerate in a covered container for up to two weeks. 
---
6. Salted chocolate avocado pudding
Where do you least expect to find your synbiotic supplement? In chocolate pudding, that's where.
Ingredients:
1 ripe avocado

2 tablespoons of coconut oil, melted

2 tablespoons of unsweetened milk of choice

3 tablespoons unsweetened cocoa powder

2-3 tablespoons maple syrup

2 scoops Eden's

½ teaspoon vanilla

⅛ teaspoon sea salt
Instructions:
Melt the coconut oil in the microwave and set aside.

Cut avocado in half, remove pit, and place avocado meat in a food processor. Add the rest of the ingredients and blend until smooth.

Taste and adjust: To thicken the pudding, add more coconut milk or coconut cream, some chia seeds or flaxseeds. To thin down the pudding, add milk or water while stirring until you get your desired consistency.  

Top with strawberries or coconut flakes.